Cookies at Christmas: A Hungarian Delight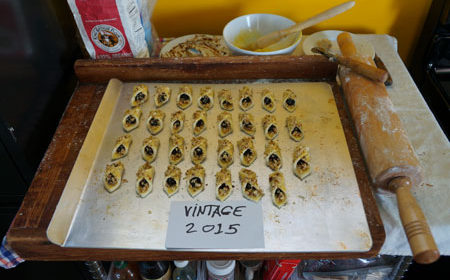 It began in the Roaring Twenties and went on for decades, at least into the Forties. The world's best cookie had boys lined up every Christmas season.  The location: 96 Clay Street, Greenpoint, Brooklyn, New York.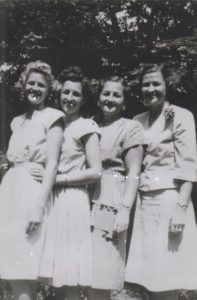 The fact that there were four – count 'em – pretty girls of different ages inside the modest wooden-framed house where the baking was going on didn't hurt the phenomena; quite the contrary.  The girls undoubtedly became even more popular during the holiday season. Each one of them was a de-facto ticket to the tray full of their mothers' – Mrs. Gocs' – hand-made Hungarian apricot cookies.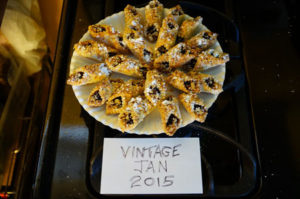 The recipe too was an immigrant from the old-country. Every young man up and down Manhattan Avenue surely plotted, schemed, cajoled and charmed his way into that cold-water flat praying that he would find more than just a whisp of powdered sugar and a few crumbs left on the plate.
As the decades went by each young girl married one of those boys – who went off to World War II and were lucky enough to return home – had families, and continued the tradition of making the best cookie in the universe.
Their kids – children of the tumultuous Sixties – kept the Christmas cookie-baking going. But well into the first decade of the twenty-first century one of them jumped in – yours truly, a grandson – and stressed the role that Grandma assumed with her four daughters: Quality Control. And that included sprinkling them with finely chopped walnuts just before baking.
When done the cookie was finished off with a very light dusting of powdered sugar.
I felt I had to take on the enforcers role since one of my cousins – who shall remain nameless to avoid being pilloried via the World Wide Web – was advocating cultural heresy by dispensing with the nuts.  The lamest of excuses was given: "Well, Grandma didn't always put walnuts on them."
And to think that the lady isn't here to defend herself.
Can you imagine a conscientious, immigrant mother of four, who was so meticulous mentoring her girls on the fold-over, that she would sometimes-yes, sometimes-no the walnuts? Of course not, it defies credulity.
So as our family's third-generation maker of Grandma's apricot cookies – my daughter – gets ready to continue almost one-hundred years of cookie making, I counsel her as follows: Don't smush the fold. And do the walnuts too.
Great Grandma is watching.
[Note1: Lest you, web reader, think I exaggerate the popularity of this apricot cookie, here is a true story from Christmas 2008. One of my cousins tracked down a then elderly woman who was a downstairs tenant in my Grandparent's house during and after those war years. What do you think was one of the first things she mentioned to him? Remembering and missing Grandma's apricot cookies!]
[Note2: The headline 2015 vintage picture from my abode in Texas shows not only the cookies huddling together, but they are on our Grandmother's cookie/bread board that she used all those years.]