Cool!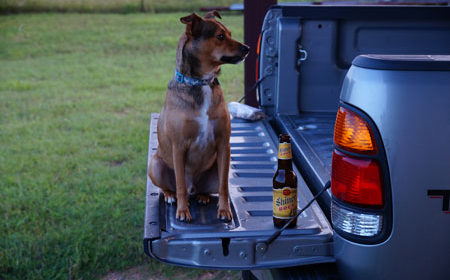 Well, the laws of celestial bodies have finally kicked in and summer is a thing of the past. Although here in south central Texas you still have to look over your shoulder because you never really know when heat will return like a tenant – with good riddance – you evicted.
The point was well made last night listening to the Astros game: they had the roof to Minute Maid Park open for the first time since May 20. It was only eighty outside at game time.
Ahhhhh.
Happily, last evening also brought the renewal of tail-gate wisdom: Ernie and I had almost concluded a prescription for world peace. However, an unexpected event disrupted the moment: in the near darkness we both had a sense of somethings moving. Over our shoulders about fifty yards away towards the outback it turned out to be a caravan of skunks. They were in no rush. The plodding figures resembled four bedraggled backpackers moving to a more scenic spot.  Ernie's squealing "let me at 'em" didn't faze them a bit.
The change in season also brings crisp, clear nights and a prematurely early morning walk. He doesn't like steam heat either. Its seasonal demise is his reason for this morning's 4:50 a.m. jaunt.
As the lemon-slice moon disappears into first-light the reality of resuming refreshing motorcycle rides has set in as well; although I've yet to figure out a practical way to have my pooch tag along.
Maybe that will be the topic at tonight's tail-gater?