Just tooling around: sheer perfection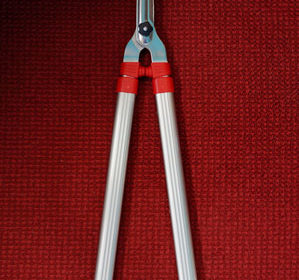 It could be a guy thing: appreciating all kinds of tools. And I am not talking about ubiquitous, electronic gizmos.
The subject is tactile instruments that you hold in your two hands to accomplish a task: forged steel, careful twists of aluminum or sculpted wood. It might even be a combination of all three and more.
For example, I have Sabatier cooking knives from France brought to the U.S. in the early 1900's by my French grandfather. My father used them. When he died I made sure that I rifled through the kitchen drawers and absconded with a few. Mom didn't mind.
They are perfectly functional and are treated with great care and affection. I invite my daughter to do the same and cull my food prep area when the time comes.
However, my affection doesn't start and stop with making things to eat: garden tools get the same respect.
Recently I bought one that is shear perfection. It was an internet slog to find it.
Initially, my searches for "manual hedge clippers" kept bringing me back to the same crap I bought at Home Depot five years ago. You can see what has happened to that high-tech gem: it's rusted and the iron blades are warped making the clipper useless. It was their "best" at the time. They are still peddling an "or equal."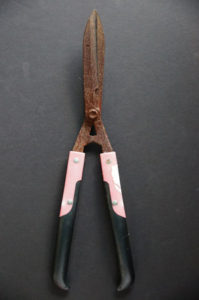 Stubbornly, I wouldn't make the same mistake and simply buy a replacement. I went way up-scale and kept searching for "world's best………"
And I finally found it on-line at a store in Wisconsin called Gempler's: at just over one-pound these telescoping aluminum tubes with nickel-plated six-inch blades are so sharp you could cut sushi. [There goes the mention of food again.] The Asian reference is intentional since they are made in Japan. Knowing that the Japanese take rightful pride in their gardens I figured these are used by both professionals and dedicated home gardeners.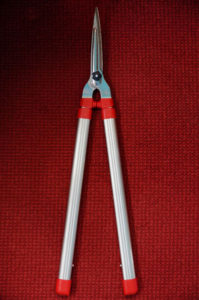 Another major reason for buying this ten-finger shear is in keeping with my minimalist philosophy: with careful use the only possible maintenance over time should be sharpening the blades. Of course for about half the price – and headache getting it repaired – I could have bought one of those gasoline-powered ear-numbing weed-wackers.
Nah.
I've only had these ARS hedge shears for a week but already I've neatly trimmed around everything that the lawn mower couldn't get to, including my two raised beds inside the garden cage.
Its great exercise and I haven't used a drop of gasoline or created a decibel of noise. [Okay, maybe one or two from the clip, clip.]