Toads, Big Girl, and Ernie's cowboy up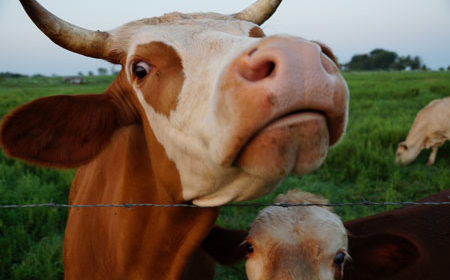 Toads
Whew!
Thankfully – as it turns out – they may have never left.
Last night at our brief nine o'clock walk Ernie just off the carport slab bumped his nose into something.
I flicked on my flashlight and there it was: a new small toad. He is different because his color and pattern on the back are a tad varied from the previous one that vanished under serpent circumstances.
Lesson confirmed: When left alone, ignoring temptation for human intervention, Nature dances to its own tune. And in this case it appears to have been an acceptable one.
***********************
Big Girl
Speaking of Nature here is another surprise. It was a beautiful humid early morning. [There is hope that finally this weekend the weather will turn to our fall temperatures descending to night and day fifties/seventies.] The neighbor's heifers had slept overnight against the wire fence way out back. When from our side Ernie and I came upon them they stirred and turned as if in a movie set they were responding to "lights – camera – action".
One of the two still growing girls has become very friendly to me. She sidled up to the wire and watched to see if I would, as usual, collect and hand feed her a fistful of fresh green grass. [Despite the still-warm temperatures most of the grass has gone dormant. What remain alive are scattered tufts.]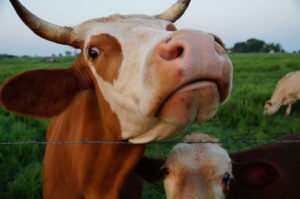 [Pic of Big Girl One and son from September, 2016]
However, one of the fully grown heifers – Big Girl One – kept her eye on me because she is dominant among the four females. Acknowledging that status I always try to include her in the hand feed, often times giving her first dibs; surprise, surprise this morning she twice turned up her nose at the offering. Instead, the aforementioned friendly youngster shown in the background above was happy to enjoy it. Big Girl just stared at me. I held out both palms as if to say, "Well, you had your chances."
**********************
Ernie's cowboy up
Coincidentally the four goats had spent their night just a few feet away from the cows. Inquisitive, but not gentled as are three of the cows, in unison they stared at Ernie as he ran along the wire. He still hasn't warmed up to them.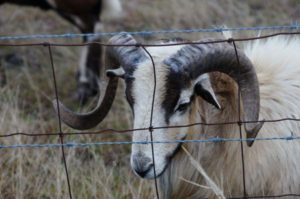 That could be because the two-year old corkscrew-horned ram in the not too distant past charged at him. Perhaps the dog remembered because today we had a break out moment: Ernie ran at the ram barking in his face. Way to go Ern!
It is the nuances of mornings like this that make every day a joy. Ask Ernie, he'll tell you that too.